Shop With Confidence
Evolving the Henry's shopping experience to get you what you need
Shop online for delivery to your door
Buy Online, Pick Up In Store— Ready in 2 hours
Shop in stores safely & confidently
Curbside pick-up
Shop Online for Delivery to Your Door
Get What You Need Without Leaving Home
Browse, compare and shop online from any computer, phone or tablet without leaving the comfort of your home. Need help? Henry's customer service team is available to answer any of your questions via on-site chat. Orders over $99 ship for free!
Buy Online, Pick Up In Store
Ready in Two Hours!*
Get What You Need Faster While Minimizing Contact
Find the items you want on henrys.com and pick them up at your local Henry's store. We're providing a safe environment in our stores to ensure you can visit our store safely and confidently.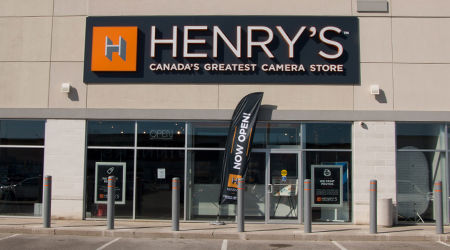 Curbside Pick-up
For your comfort and convenience, Henry's is now offering curbside pick-up at our store locations. Purchase your items at henrys.com or call or email the store directly. Once you've received confirmation of your order, simply call the store when you arrive outside.
Please note that you must purchase online or contact the store ahead of time before arriving at the store to pick up your order.
All stores are open at this time.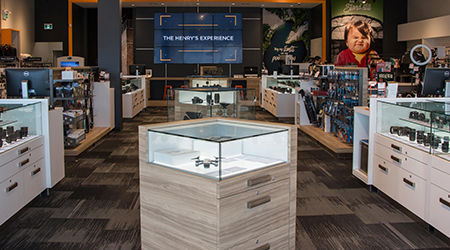 Shop in Stores Safely & Confidently
Get Dedicated Assistance from Staff
To maintain the safest possible environment for our customers and staff, we may limit the number of people in the store at one time. For your convenience, we are taking appointments for in-store service. Please call to make your appointment during operating hours at least 24 hours in advance.
Get the help you need safely
The health of our customers and employees is our top priority. We've made changes to our stores to ensure that your experience is safe and seamless, including implementing clearly marked areas for customers and spacing work stations to maximize social distancing. We are also limiting the number of customers in store at a time. In addition:
Sanitizers will be located at each work station and available for customers' use
Rigorous cleaning and sanitation protocols with increased frequency
Staff will be wearing PPE masks when serving you
Ensuring staff sanitize work areas and hands between customers and on a regular frequency
Please note that due to local by-laws, a mask covering your nose and mouth may be required in order to enter some locations.
Returns & Exchanges
Previously purchased items can be returned or exchanged easily at Henry's. Staff will safely accept the item and help you find a replacement.
Purchases made online can be shipped to Henry's by mail for return. Please contact Henry's by email for instructions on how to return your purchase.
Repairs
Drop off your camera for repair at any Henry's store location. Repairs will be processed on a first-come, first-served basis.
Have Questions?
We've answered many common questions about Henry's and COVID-19.
In-store Shopping
Are stores open?
All Henry's store locations across Canada are now open for safe shopping. Store hours have been modified to best suit customers' needs at this time, and to allow us to properly clean and maintain the stores in order to provide a safe environment for our staff and customers. Please see our store locations page for details.
Services
Are all services available?
We are working to make more services available to you as the COVID-19 situation allows. At this time, we have made the following modifications to our services:
We may limit the number of people in the store at one time in order maintain social distancing. For your convenience, we are also taking appointments for in-store service. Please call to make your appointment during operating hours at least 24 hours in advance.
Are You Accepting Returns?
Yes. Please review our Returns and Exchanges policy for details.
Shipping & Deliveries
When will my online order arrive?
To ensure the safety of our distribution centre teams, we've implemented social distancing guidelines which may cause a slight delay to order shipments.
We know you're excited to receive your new item(s) and we appreciate your patience and support as we take extra care to process your order.
If you have questions about the status of your order, please email our customer service team at customerservice@henrys.com.