Trade It, Upgrade it
Did you know about Henry's Trade-ins?
Looking to upgrade your film camera or DSLR? Check out our Henry's Trade-In Program. Henry's Camera will gladly buy back your second-hand equipment and give you a store credit to use towards a purchase.
Many variables may affect the value given for any hardware. The trade-in value may increase or decrease depending on the condition of the item. Discretion is up to the store manager.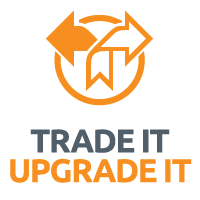 Trade-In Bonus: Save on Tax!
When you upgrade your equipment, pay tax only on the amount after your trade-in value is deducted!
Bonus Dollar Days!
Take advantage of 10% Bonus Dollars on top of regular trade-in values*
Limited time offer June 2 – July 6, 2023 only! Trade-in Value + 10% towards the purchase of a new, open box or used, in-stock item.
Trade in your old camera, lens or other qualifying gear at any Henry's store location and get the regular trade-in value PLUS an additional 10% towards the purchase of a new, open box or used, in-stock item. Valid on trade-in items deemed to be in Great or Fair condition.
See in store for details.
Terms & Conditions:
Henry's Bonus Dollar Days offer valid in-store only from June 2, 2023 to July 6, 2023. The Trade-In Amount for the customer's trade-in of one (1) item is eligible for the bonus trade amount towards the purchase of one (1) new, open box or used, in-stock item. Henry's determines the trade-in amount in its sole discretion. Trade-in amount may vary according to condition and age of trade-in. To be eligible for 10% added bonus amount, both the Henry's trade-in amount and 10% bonus added amount must be applied to the purchase price of a consumer's purchase of an eligible item. 10% added amount is not a cash equivalent, may not be redeemed for cash or gift card, and is available only for the purchase of a new, open box or used item at the time of trade-in. 10% bonus added amount is cancelled and forfeited if the new item is returned for any reason or cause whatsoever. Operating trade-in item(s) must be surrendered at the time of trade-in. Offer valid on single purchase only and cannot be combined or duplicated.